Table of Contents
Chapter 1: Creole/Black Cajun in New Orleans
Chapter 2: Growing Up in the Pre-War Bay Area
Chapter 3: Marriage and the War Years
Chapter 4: Into the Lion's Den
Chapter 5: Breaking Down, Breaking Up
Chapter 6: The Movement Years
Chapter 7: An Emancipated Woman
Chapter 8: Richmond and Rosie and Betty the Ranger
Chapter 9: Shining Bright at Twilight: Lessons of A Life Long Lived
Epilogue
The book is not a traditional, linear autobiography. Like memory, it circles back and forth in time frequently. Some stories are repeated as the different Bettys backtrack to reexamine and re-assimilate them. As documentation of an extraordinary life, it is priceless.
Click on this link to read a review that provides an overview of her unique life experiences.   Betty Soskin's memoir "Sign My Name to Freedom"
Click here to see Betty talking about the highlights of her own life.

Click on this link to see how to order:
Soskin's riveting commentary is directly informed by over a century of her family's and her own personal experience, and this forms the heart of A Lifetime of Being Betty which was recorded live.
Betty is a born storyteller. These antidotes are full of wit, pathos and authenticity.

Biographical Tidbits about this Amazing Woman
As a National Park Ranger, Rosie the Riveter Park, Richmond Ca.  Betty played a major part in shaping this Park. She reminded the planners of the rich African American and multicultural history of the World War II period that  should be included in Park displays, which it is because of her input. Betty is  an expert on issues of race during World War II in the shipyards of Richmond and Port Chicago. She is a very popular interpreter and sought after speaker about this National resource.
Self-styled African American cultural anthropologist and writer focusing on African American history and sociological development, she is the recipient of numerous awards for her public service, role modeling, and educational abilities as a popular speaker for civic organizations. Betty received an Honorary Doctorate from Mills College, Oakland California for her educational work about the multicultural contributions during World War II and her community activism. This is not the only honorary degree she has been given. She received an honorary doctorate from the College of the Arts in San Francisco for her lifetime achievements, as well as other prestigious awards.
Since the 1940s, she has  been one of the owners of a family music and cultural resources store serving the African American community. Liz previously produced a video segment for Rise Up & Call Her Name which focuses on the range of political/social beliefs and musical styles in the African American society. (Betty, Liz and Bob Fisher have been friends for over 35 years.)
Artistic expression, her and others, have always been important to Betty. She was a singer and songwriter for many years. She compiled and released her best songs for her ninetieth birthday. Some of the titles are: Little Boy Black; Mississippi Summer Freedom; Each of Me. Ebony the Night (c) 1975 was  inspired by witnessing the "Birth of Blackness,"  at a Black Caucus Conference in Chicago when as she says  "I experienced moving into my black identity fully and completely and without apology or regret."
97-year-old Betty Soskin wrote the song "Your Hand in Mine" in 1964 after being inspired by Fannie Lou Hamer's fight for the Mississippi Freedom Party to be seated at the 1964 Democratic National Convention in the face of Lyndon Baines Johnson's attempts to keep her out. And when Betty saw LBJ expropriate the phrase "We Shall Overcome" in a subsequent speech, she was moved to come up with a new song that would embody the feelings of love and togetherness which she knew were essential to bringing people together. That song sat in a shoebox for 50 years until December 2018, when the Oakland Symphony and Chorus brought Betty on stage to finally sing this beautiful song that she wrote so many decades ago.
Betty's  Website and Blog are both excellent sources for her personal wisdom. Her website contains pictures of her life and a video presentation. Her memoir draws extensively on her over ten years of  blogs.
She also appeared in the Vagina Monologues, as one of the characters in a local cast; she was the oldest and one of the most effective.
Betty introduced President Obama

at the National Christmas Tree Lighting Ceremony, 2015, Washington D.C.



This column was published in Patheos' Nature Path blog  in December, 2015 when Betty Reid Soskin introduced President Obama at the National Tree Lighting Ceremony. The second half of this column includes biographical information about Betty's fascinating ancestry and the many activities and accomplishments she has achieved.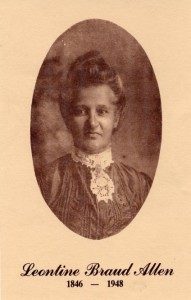 Betty explains: "Since my great-grandmother, Leontine, lived to be 102, (1846-1948). I was privileged to have actually known my slave ancestor.  I was a 27 year-old married woman and mother of two when she died three years after the end of WW II." She carried a picture of her grandmother in her pocket when she introduced President Obama. It was quite a moment, her standing in front of the White House built by slaves. The President acknowledged the contributions of her grandmother during his comments, genuinely impressed by Betty's dedication to sharing her life story.
Response to the column from Betty:
"I did read your lovely piece when I reached home, Liz, and found it expressed our friendship and mutual admiration over those 30 years. You've done great work over time, and I'm so proud to have been a part of that. Life is still unfolding in incredible ways, while the world seems to be disintegrating beneath our feet. You and Bob have been such good friends over time, and it's clear that you've both had an impact on UU life as you pursued Truth."
A Syndicated Cartoon featuring Betty's life
by Morris Turner, July 2011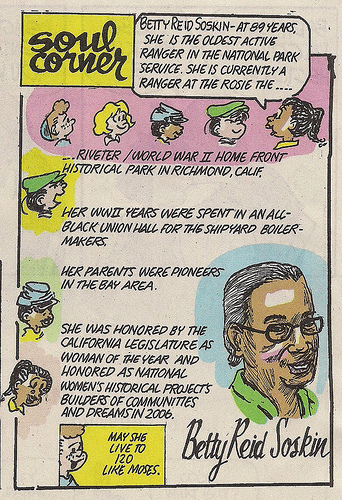 On October 22, 2019 Re;resentative Mark Desalnier made this statement about Betty in the U.S Congress
Betty Reid Soskin's dedication and service to our country has been and continues to be an inspiration to all who know her. I am proud to call her a friend and was grateful to have the chance to pay tribute to her on the House floor.

Posted by Rep. Mark DeSaulnier on Tuesday, October 22, 2019
Betty makes a fine statement in this inspirational video  created by the esteemed photographer Annie Leibovitz.