Howard Matson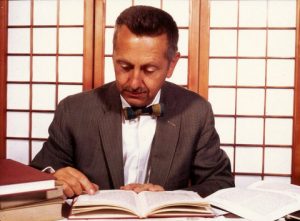 Howard became a Unitarian Universalist minister in 1932. He served several churches including those in Santa Monica and San Francisco. Howard retired from parish ministry in San Francisco in 1961. From 1971-78 he was the minister for Migrant Farm Workers for the UUA. He wrote a book of very clever and moving essays entitled The Fourth Wise Man.
Howard Matson was a strong feminist and a supporter of the Women and Religion movement from its inception. In conversations and in print he related poignant examples of what it means for the world to deal with sexism throughout history.
HOWARD'S ARTICLE ON FEMINISM
A Historic Distortion: Some thought on childhood, feminism, and the great universal awakening that can heal our tortured planet which appeared in The Humanist, July/August 1990.
In this piece he points out how the history we have been taught has often left the facts about women. He comments: "The historic depth of this distortion is the reason why so many women—as well as men—do not know that they are being oppressed or marginalized or trivialized."  Howard outlines his early attitudes when he did not even notice the institutional sexism at Harvard in 1929-32 where he attended theological school. He reviews international examples where progress is being made to reverse gender based discrimination and much more.
THE FOURTH WISE MAN

"A few years before his death–when times were less hectic for us–Howard and I began to work on a task very important to both of us. He wanted to republish his first book The Fourth Wise Man, editing out the sexist language that permeated its pages. It had been written more than fifty years ago, before the feminist movement taught us the importance of inclusive language. I was eager to do this because it is a fine book full of poetic wisdom and humor and it should be shared. The contents are as relevant to today's troubled world as it was when it was first published in 1954." ~from introductory remarks by Rosemary Matson
Liz and Bob Fisher managed to format and publish the book so it could be released in 2010, at General Assembly, when Rosemary (in person) and Howard (posthumously) received the Adin Ballou award.
The entire book can be accessed and downloaded here:
A QUOTE FROM THE FOURTH WISE MAN, BY HOWARD MATSON, ORIGINALLY PUBLISHED 1954
RE-ISSUED WITHOUT SEXIST LANGUAGE, 2010
Yes, the winds of life are broad and deep. At any moment of our life journey we may choose to face them. In this way we will find strength and exhilaration. At every moment of our life journey we may also note the direction in which the winds generally blow. Out of this knowledge we may chart our course. We need not be disturbed if going with the tide and facing the wind seems to confront us with contradiction. Knowing and doing both is living.
MINSTRY TO FARM WORKERS
 This short booklet presents Howard's work after he retired from parish ministry. It includes several vintage photographs of Cesar Chavez, Doloras Huertes, Howard Matson, Rosemary Matson and others.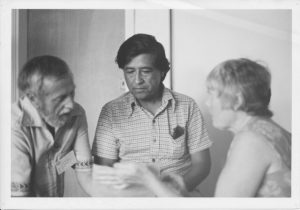 Interviews with Monterey County Activists and Organizers, 1934-2015 from the People's Oral History Project.
This incredible project includes interviews with dozens of activists over the last forty years in Monterey County, California. This unique area, just 2 hours south of San Francisco was the place where many national and international social justices issues were confronted.  Depressed wages and unsuitable working conditions were confronted by the United Farmworkers; environmental degradation and education is engaged by the Monterey Aquarium, one of the finest in the world. Women's participation in public life is celebrated and encouraged.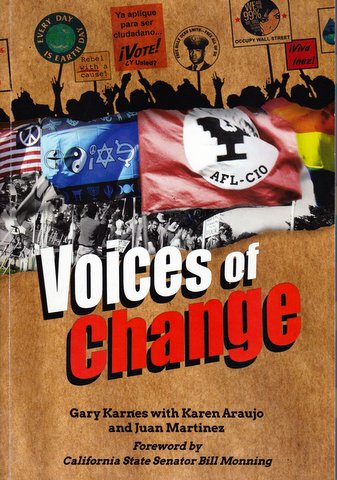 Liz Fisher compiled quotes from Howard and Rosemary Matson for inclusion in this project. Here are Howard's comments.  (For both Rosemary and Howard's click on the link above.)
Howard Matson in his own words:
From 1971-78 I have been Minister for Migrant Farm Workers for the Unitarian Universalist Association. The UU Migrant Ministry partnered with the interfaith National Farmworker Ministry in various initiatives designed to complement the efforts of Cesar Chavez and the United Farm Workers union that was trying to organize California's fieldworkers. This included Methodists, Roman Catholics, Jews and Presbyterians among others. We joined striking workers on the picket line, urged supermarket shoppers to boycott non-–union produce and helped facilitate teach–ins. I often spoke about the farmworker struggle to UU audiences, and about Chavez's non-violent, quasi–religious approach to worker mobilization.
I was in the hurly burly of things including those dangerous confrontations between Teamsters and the United Farm Workers. The clergy were present to help cool the violence. It was difficult to cool ourselves in the 120 degree heat of the Coachella Valley.
In the years I was minister for migrant farm workers it was clear to me the mere presence of a caring person in a crisis situation is the most important contribution one could make. Migrants are so alone as they wander from field to field in search of work. Even when families are together it is a lonely life. To live in a labor camp and to work fields close to where people live in real houses is a depressing experience.
Cesar Chavez remarks at the memorial service for Rufino Contreras who was murdered near El Centro, California on February 10th began — "It was a day without hope. It was a day without joy. The sun didn't sing. The rain didn't fall. Why was this such a day of evil? Because on this day, greed and injustice struck down our brother Rufino Contreras." Near the end of his eulogy Cesar added — "If Rufino were alive today, what would he tell us? He would tell us don't be afraid. Don't be discouraged. He would tell us don't cry for me, organize!"

Presente! Rosemary and Howard