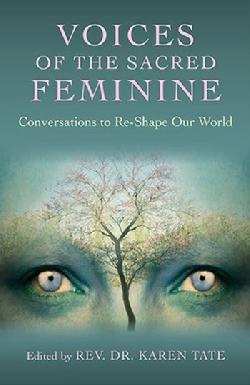 Edited by Rev. Dr. Karen Tate
Kindle Edition $9.99
Auto-delivered wirelessly
Paperback $21.16  (was $24.95)
An impressive selection of the guests featured on Karen Tate's internet radio show offering their wisdom and insight.
Be sure to read Elizabeth Fisher's article on "Honoring Multicultural Goddesses" talking about:
New Ways of Knowing

Medicine Stories

Earth-centered Values

The Interconnected Web

Opening to the Future, and more
Rev. Dr. Karen Tate is one of the most provocative show hosts on internet radio. For over a decade as host of Voices of the Sacred Feminine she has been pulling together a power network of sacred voices. Karen is a liturgist of goddess honoring ritual, and a master articulator of feminist political perspectives and earth-based spiritual perspectives. She is also a sacred site expert having traveled to many key sites and reported her findings in a collection of informative books. Her choice of contributors reflects her eclectic skills and integrative capabilities.
Check out the list of contributors

: Noam Chomsky, Laura Flanders, Gloria Feldt, Jean Shinoda Bolen, Phyllis Chesler, Barbara G. Walker, Riane Eisler, Matthew Fox, Roy Bourgeois, Starhawk, Charles Eisenstein, Genevieve Vaughan, Carl Ruck, David Hillman, Judy Grahn, Nicki Scully, Normandi Ellis, Selena Fox, Patrick McCollum, Jann Aldredge-Clanton, Cristina Biaggi, Charlene Spretnak, Shirley Ranck, Elizabeth Fisher, Amy Peck, Art Noble, Jeanette Blonigen Clancy, Joan Norton, Andrew Gurevich, Gus di Zerega, Lydia Ruyle, Vajra Ma, Ava, Donna Henes, Candace Kant, Sandra Spencer, Layne Redmond, Isadora Leidenfrost, Alisa Starkweather, Joan Marler, Tim Ward, James Rietveld