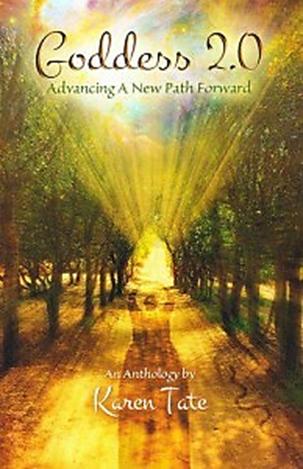 Goddess 2.0: Advancing A New Path Forward
an Anthology by Karen Tate
Our comment at the launch party:
Greetings from Central California. We're glad to be able to celebrate with you the publication of this incredible anthology. In preparation for writing a review of this wonderful volume for SageWoman Magazine, we read all the essays which was like having two dozen heartfelt conversations. Each contributor uses an intimate voice which makes their ideas accessible and compelling.
It's remarkable how the work of a wide range of authors flows together and creates a sense of unity. And because of the relevance of each essay, we sense the visions invoked will be applicable for a long time to come. We love the mix of past, present and future with many solid examples which inspire us to continue taking action to make the world a better place.
Not only useful as a guidebook to animate group discussion, this slim volume is a true bedside companion that helps us rejuvenate our moral compasses. Each offering is a pleasure to read and think about. Discovering insights into the social, political, religious and economic institutions makes us feel good about using our minds. The Love of the Goddess that comes through is uplifting, truly "advancing a new path forward."
Our comments on our own essays:
From Bob: As a man, I appreciated the opportunity to relate how the Goddess came into my life at an early age, encouraging my intuitive ethical side that supports non-hierarchy, interdependence, and nurturing.
From Liz: Partnership has been very important to me. Lilith Meets the Green Man is a story I devised that models shifting humanity away from misogyny as we form relationships that are egalitarian, loving and respectful of each other.